Testimonials of OmniSpine Pain Management in Mesquite TX and Frisco TX
Check out our testimonials below! See what our patients are saying about us.
Hyaluronic Acid Gel Knee Injections
(Orthovisc, Durolane, Supartz, Genvisc , Synvisc)
Another Satisfied Patient Who Knows
'Dr. Morchower has their back'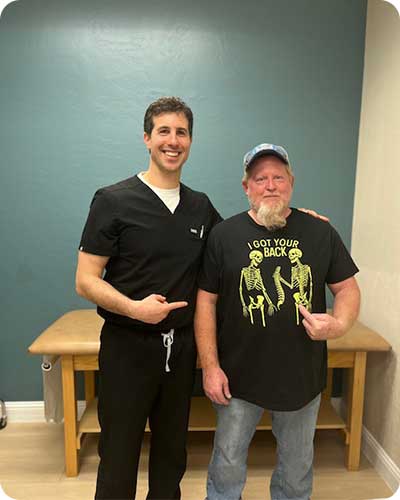 Doctor appreciation through art!
Kim made Dr. Morchower this beautiful image of a spine for his new office.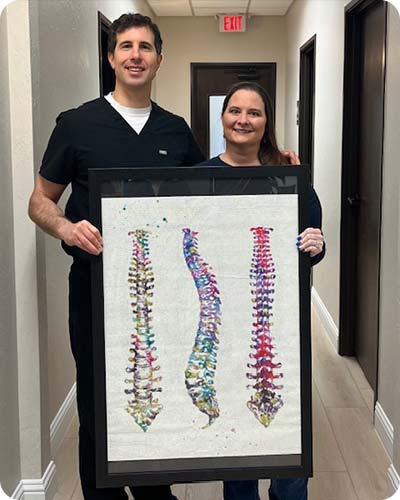 During my first visit to his clinic, I found Dr. Morchower excellent in every way. Seemed to be compassionate, capable, knowledgeable and conservative. First procedure with him proved his surgical expertise. Would not hesitate to recommend him.
Ivan K.
Dr Morchower is such an amazing Dr. He is patient, kind, caring and truly wants the best for you. Dr Morchower listened to me and any concerns. He is an amazing man. Dr Morchower has helped me get through the toughest year of back pain. Dr Morchower listened to all my needs and concerns. I felt at ease at my very first appointment and even let him do trigger point injections. (Which is huge because no one touches my back.) He kept me calm through the whole process. Dr Morchower is a wonderful caring man. I'm so grateful that I have a Dr who listens, cares and helps me through each process.
Andrea W.
I have suffered with Back and neck pain for over 20 years. I have had numerous surgery's and pain injections over the years. Last summer I was referred to Andrew Morchower MD for treatment. Dr Morchower is not only a great doctor but is also great to work with, he takes his time and really listens to me and offers me different options. Dr Morchower makes sure that I always have access to him.
After several treatments I have been almost pain free for the last six months.
Thank You Dr Morchower.
Jim M.
I have had chronic neck, shoulder, and arm pain for over 12 years as a residual problem from Arnold Chiari malformation. In January of 2014 I started an exercise program to reduce my weight in order to try to help my pain but something happened and my pain got worse to the point that I would have to miss a lot of work because I had to take a lot of narcotics to relieve my pain. The narcotics only slightly helped and it was recommended to me to see a pain specialist. I was very scared to go see a pain specialist because I was afraid of having to get injections or surgery in order to relieve my problem. Finally in September, I broke down and went to see Dr. Morchower. He did have to inject my spine with steroids bot he did this with twilight sedation. He was very good with this procedure and I did not experience any negative side effects. Dr. Morchower also injected my right elbow in his office which was not as painful as I thought it would be. The injections have given me back my life. I am now able to concentrate on other things besides pain. I do not have to worry about having enough pain medication or when I can get my next refill anymore. I am very grateful for the care I am receiving from Dr. Morchower and his staff.
Kimberly S.
When you're in severe and serious pain you need a doctor you can trust to listen to you and know how to give you relief. Dr. M is very thorough and compassionate. He is conservative in his approach and mindful of the types of medications he gives his patients.
As the spouse of his patient, I appreciated how he would look to me, not just my husband, to find out how he was really doing. I would recommend him to anyone!
Susan B.
Five stars does not do him justice. I have been living with pain for several years now due to autoimmune disorders. I've had knee surgery's, elbow, shoulder and for the past couple of years have been fighting degenerative disk disease in my lower back. It even lead to me relocating back to Texas to be closer to family so they can help me. I was terrified to find new doctors. Explaining all of my pain always makes me feel like doctors are pitting me in the "one of those" category. Dr. Morchower and his staff have never made me feel like my problems weren't real. He even took time to explain to me why pain medication works and the benefits of taking it before the pain becomes excruciating. I currently have four different doctors I have to see on a regular basis and although I am happy with them Dr. Morchower is by far the best. I recommend to everyone.
Heather F.
I use this office on a monthly basis. The staff is always friendly and I have never had to wait long to be seen on appointment day. Dr Morchower listened to all my concerns and has been extremely helpful in all matters.
I have used many doctors over the years and I cannot recommend this office more. I wish all doctors had the same care and respect for their patients.
Don P.
I have been to Dr after Dr over the last several years and I tried to get a referral for a MRI because of my leg pain and back pain ,they all said we will get to that , see you in a month … I have been trying for almost two years to try the Nuero Stimulation device and NO luck. I have seen Dr. Morchower 3 times already he has had me get a MRI and has my Neuro Stimulation device . Of all the doctorsI have been to Dr. Morchower has the best bed side manner and actually listens to you . You might think he has his head in his lap top and isnt paying you any attetion ,but ask him a question and he can repeat anything you have said to him. To understand your pain and cvome up with a plan specifically for you and tell you exactly whats causing your pain and how to treat takes talent . I wish I had been going to Dr. Morchower all along. I would HIGHLY recommend Dr. Morchower to anyone that has pain issues.
Toby S.
My experience with Dr. Morchower has been spectacular. He is always patient and kind to me on each visit. Since I have a fear of needles, he spends extra time with me to calm me down prior to the injection procedure. Dr. Morchower's genuine compassion for his patients speaks for itself and I couldn't ask for a better doctor who is excellent in treating patients. He always makes my experience pleasant and one that I look forward to each week. I would highly recommend Dr. Morchower to anyone; because of my experience with him I feel that he is one of Dallas Fort Worth's best doctors.
Merina S.
About 3 months ago, I was suddenly struck with extremely painful and completely disabling back pain. An MRI and surgeon review predicted back surgery, but in the interim assigned me to pain management with Dr. Andrew Morchower. A couple of visits to the emergency room had introduced me to two nurses who had used Dr. Morchower personally, and recommended him. He first prescribed appropriate pain medications and then conducted an epidural injection to my lower vertebrae. The pain improved somewhat, but no enough, so he did a second epidural injection and found the most effective location. I was almost immediately pain free, and within 2 weeks had eliminated all pain medications. After 3 months of chronic/disabling pain, he accomplished what I didn't think was possible – a complete recovery! His skill and caring during this process was invaluable. I am most grateful to him.
Art B.
I have had Fibromyalgia for over 25 years and not been able to get the relief I needed. Dr. Morchower has given me injections and they have helped me out so much! He is a very dedicated doctor and works with you to find solutions to the painful symptoms. Thank you Dr. Morchower!
Jane P.
Since my first appointment, Dr. Morchower has worked on getting my pain under control. I have had very good results with my treatment and I am very pleased. Dr. Morchower is a very caring doctor. He truly listens to his patients. He has a very good bedside manner. I would highly recommend him for pain management.
Kimberly U.
It can be troubling to have to see a doctor, especially these days, when you have real pain issues. My experience has taught me that there are doctors out there who should not be treating pain at all. They have either over prescribed pain medication or, out of fear, will abruptly stop refilling pain medication without treating the source of my pain. I have since learned both of these treatments can be equally dangerous.
When I met Dr. Morchower in October 2013, I walked into his office and within the first 10 minutes, I knew he was unlike any other doctor I had previously been to. He was and still is very professional, detail oriented and serious about his role in treating the source and symptoms of my pain. Since that day, I have discovered Dr. Morchower is not only understanding about my pain but he is just as passionate about collaborating with me regarding my treatment. He really listens to me.
Since I have been under Dr. Morchower's care, I can positively say I have finally found a doctor I can trust. I am confident that if I follow our plan and maintain an open line of communication, Dr. Morchower will make sure I am as pain free as possible – leaving me to enjoy my life and family.
I highly recommend Dr. Andrew H. Morchower, and I have …many times.
Kimberly A.
Since coming to Dr. Morchower's office, he's helped me find a great way to control the pain. When being referred to another facility his nurses make it easy and quick. I'm so thankful for both Dr. Morchower and his nurses helping me get through the pain I have daily. He reassures his patients to stay positive and keeps their spirits high.
Joanna N.
In Phoenix, I received epidural injections from 3 different pain management specialists including Dr. Morchower. I received no relief with two of the specialists but Dr Morchower's procedure of administering ESIs provided me with substantive relief from the almost chronic sciatica like pain. He seemed to have the most interest in and knowledge of my condition. Since he had relocated to Frisco, Texas, I booked a special trip to Dallas and scheduled two more epidurals from him which once again helped to alleviate my pain.
Robert H.