Musculoskeletal Ultrasound Q&A
At OmniSpine Pain Management Clinics, we use musculoskeletal ultrasound to diagnose and manage a number of ailments and conditions such as tendonitis, bursitis, carpal tunnel syndrome, rotator cuff tears, joint problems and cysts. For more information 

contact us

 today or visit us at a location near you in Mesquite, TX, and Frisco, TX.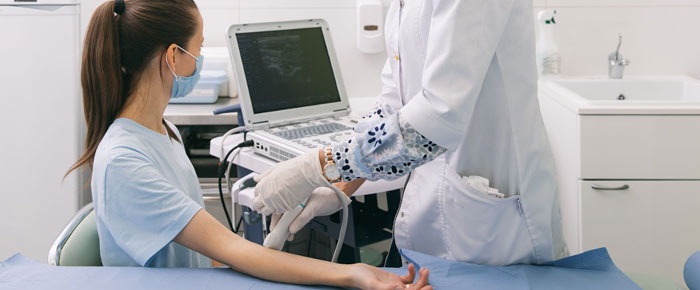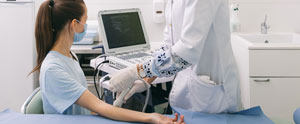 Table of Contents:
What is a musculoskeletal ultrasound?
Why is musculoskeletal ultrasound superior to MRI?
What can a musculoskeletal ultrasound detect?
How much does musculoskeletal ultrasound cost?
When you experience aches and pains in your muscles, joints, or soft tissues, imaging tests can help determine the cause of those aches and pains. Some common imaging tests include X-ray imaging, computerized tomography (CT) scans, and magnetic resonance imaging (MRI) scans. However, another imaging scan known as a musculoskeletal ultrasound can be highly effective and advantageous for evaluating and diagnosing certain injuries or conditions causing pain in the muscles and soft tissues around the joints. At OmniSpine Pain Management, we are proud to provide musculoskeletal ultrasound imaging to patients experiencing such aches and pains.
What is a musculoskeletal ultrasound?


A musculoskeletal ultrasound is a diagnostic imaging scan that examines a person's muscles and tissues surrounding the joints. As an ultrasound procedure, it emits sound waves through a device known as a transducer to produce images of such muscles, joints, nerves, tendons, and ligaments. The sound waves are emitted into the body until they hit a boundary between tissues, such as the boundaries between bones and soft tissues. Once they hit the boundary, the sound waves bounce back, creating an echo that is recorded by the transducer. The resulting image produced appears on a nearby computer screen.

Why is Musculoskeletal ultrasound superior to MRI?


While there are some instances where it is necessary to use a medical resonance imaging (MRI) scan instead of a musculoskeletal ultrasound, there are also many advantages to using a musculoskeletal ultrasound in the appropriate circumstances. As such, some ways that a musculoskeletal ultrasound is superior to an MRI include the following:

• Can be used to guide joint injections without the use of a contrast dye
• Greater detail and higher resolution with images
• Less expensive
• No radiation exposure
• Real-time images that capture motion, like a video
• Scan does not take place within a tube or bore

With that in mind, a musculoskeletal ultrasound is superior to an MRI in situations where the injury or musculoskeletal condition is not deep into the joint or tissue and does not cover a large area. However, an MRI is necessary when the exam requires an image of the structures inside the joint, including damage to the cartilage or bone.

What can a Musculoskeletal ultrasound detect?


A musculoskeletal ultrasound can detect several different musculoskeletal injuries and conditions, such as the following:

• Achilles' tendon tears
• Arthritis
• Benign or malignant soft tissue tumors
• Bleeding within the muscles or joints
• Carpal tunnel syndrome and other nerve entrapment injuries
• Changes with rheumatoid arthritis
• Elbow tendon problems
• Fluid buildup within the bursae or joints
• Foreign bodies in soft tissues
• Ganglion cysts
• Hernias
• Hip dysplasia in infants
• Rotator cuff tears
• Shoulder impingement syndrome, also referred to as bursitis of the shoulder
• Sprained ankles
• Torticollis in infants

How much does Musculoskeletal ultrasound cost?


While the price of a musculoskeletal ultrasound will vary from clinic to clinic, they are generally much less expensive than MRIs and are also accepted by most medical insurance providers. If you would like to know our specific price range for musculoskeletal ultrasounds at OmniSpine Pain Management, we welcome you to give us a call! A member of our friendly administrative team can fill you in on all of the details regarding prices, insurance policies, financing options, and more. We are happy to accept most major insurance plans at OmniSpine Pain Management.

For a musculoskeletal ultrasound appointment or more information about this procedure at OmniSpine Pain Management, please feel free to call us or book an appointment with us right here on our website. OmniSpine Pain Management has clinics in Frisco, and Mesquite, Texas. We serve patients from Mesquite TX, Frisco TX, Desoto TX, Dallas TX, Plano TX, Garland TX, Forney TX, Cedar Hill TX, and Denton TX.