Lumbar Sympathetic Block Injection in Mesquite, and Frisco TX
Lumbar sympathetic block injection is a medical procedure used to diagnose and treat certain conditions that cause chronic pain in the lower extremities, often due to dysfunction of the sympathetic nervous system.

Dr. Andrew Morchower

treats lower back pain at OmniSpine Pain Management. For more information, Contact us today or book an appointment online. Our clinics are located in

Frisco, TX

, and

Mesquite, TX

.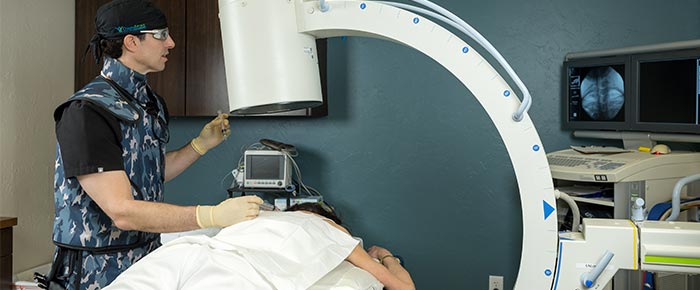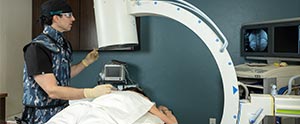 Table of Contents:
When are lumbar sympathetic blocks used?
Overview
Lumbar sympathetic blocks treat pain or other symptoms that may be originating from the sympathetic nerves of the lower back. These nerves carry information such as pain from the Legs back to the spinal cord and brain.

When are Lumbar Sympathetic Blocks used?


Lumbar sympathetic blocks are often used to treat pain and other symptoms that are due to Complex Regional Pain Syndrome of the legs and feet (aka. RSD, Causalgia, CRPS). Symptoms include pain that occurs with light touch to the area, swelling, increased sweating (hyperhidrosis) and redness that can come and go.

The Procedure

• The procedure is performed with the patient lying face down.
• Prior to the injection, the area to be injected will be cleaned with antiseptic soap and draped in a sterile fashion to reduce the risk of infection.
• Next, a local anesthetic is injected into the skin and superficial tissues so pain is not experienced during the procedure. Twilight sedation is typically utilized for this procedure. The actual duration of the injection is typically around 15 minutes.
• Under the guidance of live x-ray (fluoroscopy), the location of the lumbar sympathetic nerves is identified and confirmed with an injection of dye that spreads to the intended area of treatment. Then the medications that are injected typically include a local anesthetic and a steroid to alleviate inflammation and extend the benefits of the injection.
• Once the proper location is confirmed, the medication for the lumbar sympathetic block is administered.

The Results

Immediate results of a lumbar sympathetic block typically involve a warming sensation over the leg(s). Often, the pain or other symptoms are immediately relieved. Occasionally, temporarily weakness or numbness may be present, but is a temporary side effect. Avoid any strenuous activity for at least two days following the procedure. Other daily activities are typically tolerated without difficulty. The most common complaint is some mild soreness in the lower back where the injection had taken place. If there is a positive response to the lumbar sympathetic block, a series of blocks may be recommended. The duration of relief typically improves after each treatment. Two to four sessions are common to provide permanent relief. Responses vary from patient to patient.

*Individual Result May Vary*