How Do Fluoroscopic Guided Steroid Injections Help with Spinal Pain?
Fluoroscopic guided steroid injections offer several benefits in the field of pain management and spinal care. For certain spinal conditions, fluoroscopic guided injections can provide a less invasive alternative to surgery, allowing patients to manage their pain and improve their quality of life. Learn more about fluoroscopic guided spine injections today.

Dr. Andrew Morchower

at OmniSpine Pain Management is here to help you. For more information, contact us today or

request an appointment

. You can find our clinics in

Frisco, TX

, and

Mesquite, TX

.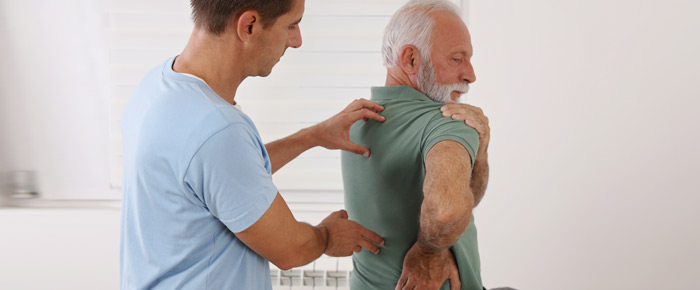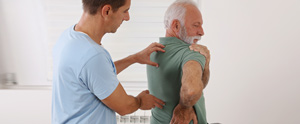 Table of Contents:
How long does a fluoroscopic injection last?
What is a fluoroscopy guided injection?
How painful is a fluoroscopy?
What is the recovery time for a spinal injection?
How long does a fluoroscopic injection last?

Spine, shoulder, hip, and sacroiliac joints are among the difficult-to-reach areas where steroids are injected. They can treat conditions such as shoulder arthritis, hip arthritis, lumbar spine arthritis, lumbar disc herniation, sacroiliac joint (SI) issues, sciatica, piriformis syndrome, and rotator cuff injuries. Typically, steroid injections contain corticosteroids (such as dexamethasone, triamcinolone, or methylprednisolone) as well as anesthetic agents (such as lidocaine).

An interventional specialist will place a needle precisely in the affected area and deliver a mixture of medication, including a steroid and anesthetic, as recommended by your orthopedic provider. When combined with physical therapy and/or oral medications, these injections can significantly reduce a patient's pain quickly. Local anesthetics can provide immediate pain relief for some people. The steroid can take 2-4 days to decrease inflammation, which then decreases pain, after other injections. The steroid may increase discomfort for a day or two before it starts working. These injections can cause complications, such as infections and bleeding, although they are very rare. Depending on the nature of your back or joint pain, your orthopedic provider may recommend fluoroscopically-guided injections.

A steroid injection can last for up to six weeks, but its effects can sometimes last longer. Following your injection, your doctor will normally schedule a follow-up appointment with you.

For this procedure, a radiologist will provide a written report to the doctor or healthcare professional who requested it. You can access this report electronically through your doctor or healthcare professional. You will then be contacted to schedule a follow-up appointment to discuss the results.
What is a fluoroscopy guided injection?

By passing x-rays through the body over a period of time, fluoroscopy makes a video of activity inside a part of the body in real-time. Ionizing radiation is contained in X-rays. The use of fluoroscopy can help diagnose (find out the cause of) health problems such as heart disease or intestinal disease. Also, it can be used to guide orthopedic surgery, implants, and injections. Healthcare providers can see inside organs, joints, muscles, and bones with this tool.

In a fluoroscopic guided injection, medicine is injected directly into the joint under a special imaging device called a c-arm. Combining a corticosteroid with a numbing agent, it is primarily used for therapeutic purposes. Inflammation of a joint can be temporarily relieved by steroid injections, a minimally invasive procedure. By administering these injections, the source of the pain can be determined, as well as the discomfort can be relieved.
How painful is a fluoroscopy?

Fluoroscopy itself is not painful, but the procedure being performed, including injections into joints or angiography that requires access to an artery or vein, may be. Depending on the procedure, the radiologist may administer local anesthesia, conscious sedation, or general anesthesia to ensure your comfort.
What is the recovery time for a spinal injection?

It varies from patient to patient how long you should rest following a spinal injection. You should at least rest until you have regained feeling in all of your limbs, as moving around too soon could lead to injury. It usually takes a few hours for this to happen. After a spinal injection, you may experience some numbness caused by the anesthetic. Typically, this occurs in the arms and legs, and it goes away within several hours, possibly up to six hours. Rest until this numbness subsides to avoid injury.

There may be a slight increase in pain in the days following the spinal injection. This occurs before the steroids begin to work but after the numbness wears off. Within one to five days after the injection, you should notice a reduction in pain. Fluoroscopic guided injections are available at OmniSpine Pain Management Clinics. For more information, contact us today or request an appointment. You can find our clinics in Mesquite, and Frisco Texas. We serve patients from Mesquite TX, Frisco TX, Desoto TX, Dallas TX, Plano TX, Garland TX, Forney TX, Cedar Hill TX, and Denton TX.